STRATEGIES TO
CREATE DISTINCTION
From ICONIC Author & Speaker
SCOTT MCKAIN
Scott McKain's dynamic presentations inform and inspire — meaning your audience learns and implements his insightful ideas following your program.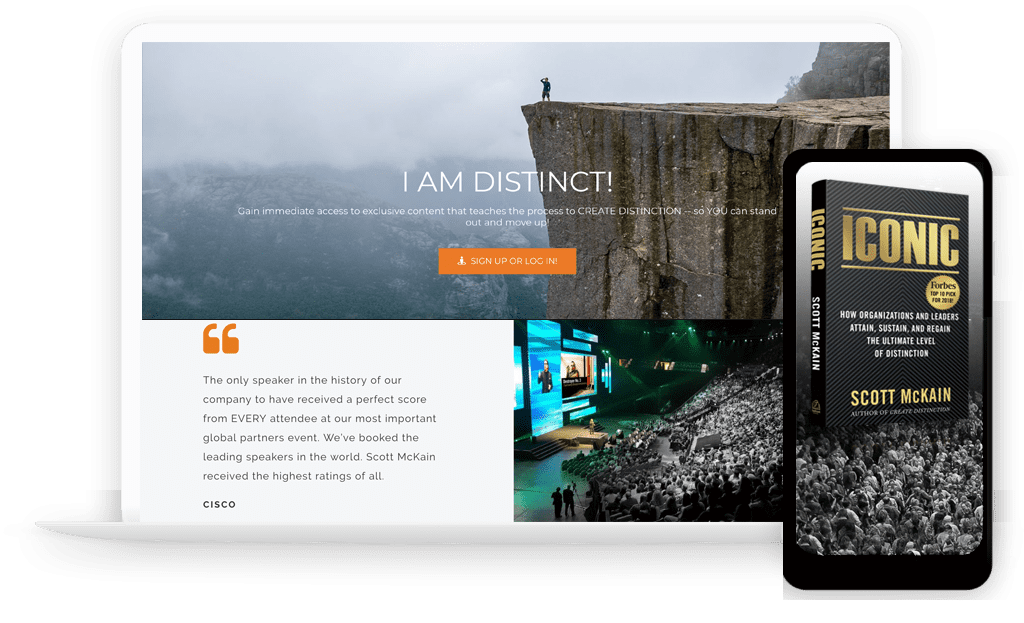 Scott has delivered thousands of impactful programs to audiences around the world.
Sales & Marketing Hall of Fame
Professional Speakers Hall of Fame
Author of ICONIC, selected as one of Forbes.com's "Top Ten Business Books of the Year"
Faculty in Residence at High Point University with Apple co-founder, Steve Wozniak; Netflix co-founder, Marc Randolph; and NYSE Executive Vice Chairman, Betty Liu
RESULTS
"The only speaker in the history of our company to have received a perfect score from EVERY attendee at our most important global partners event. We've booked the leading speakers in the world. Scott McKain received the highest ratings of all."
CISCO
A FEW OF THE DISTINCTIVE ORGANIZATIONS THAT HAVE CHOSEN SCOTT FOR THEIR IMPORTANT EVENTS…
INSPIRING & ACTIONABLE
Scott McKain has designed and delivered high impact presentations for the world's most dynamic brands. Every program is customized to be highly relevant to each specific audience. As Scott has been the highest rated speaker in the history of many distinctive organizations, you can be assured of an ICONIC event when he is on your agenda.
ICONIC Keynote Speaker Scott McKain
Distinction Nation
Immediate access to FREE audience resources to implement ideas following their program.
ICONIC Podcast
Helping you and your team learn how to establish dominance in a competitive marketplace.
Blog
What happens if your competition learns the secrets of standing out… and you don't? Read weekly insights.
Event Planners
Discover why corporate clients & meeting planners love working with Hall of Fame Speaker, Scott McKain.
We provide everything it takes to make you look like a hero for selecting Scott — and tools to assist as you present him to your client or team.
To check availability and learn more about Scott's customized programs, call Shelley Erwin at +1-800-838-6980 x2 — or connect here:
"We have some more positive updates on our Iconic journey. New amazing white sand beach pool and rooms open… Jack was awarded GM of the year for all of America… We just got top 100 companies (all industries) to work for in AZ. Then when we went to receive the award they ranked the top 30. Yup, we got #1!!!!  THANKS SO MUCH TO YOU!"
FAIRMONT HOTELS & RESORTS
"It is not often I will make such a recommendation, but in this case it is very much worth it – if you are thinking about an event to reinforce Customer Focus and get a new angle on the topic, I can only recommend that you get in touch with Scott."
BMW
"We very much enjoyed your presentation last week. It has provoked a lot of discussion among our management team. Finally we have someone giving us a plan and a way rather than describing the issue and no solution."
INTEL